Getting married should be the most magical time in your life, don't let your budget ruin your wedding! Save money and your marriage with a Tent Floor Rental from PM1.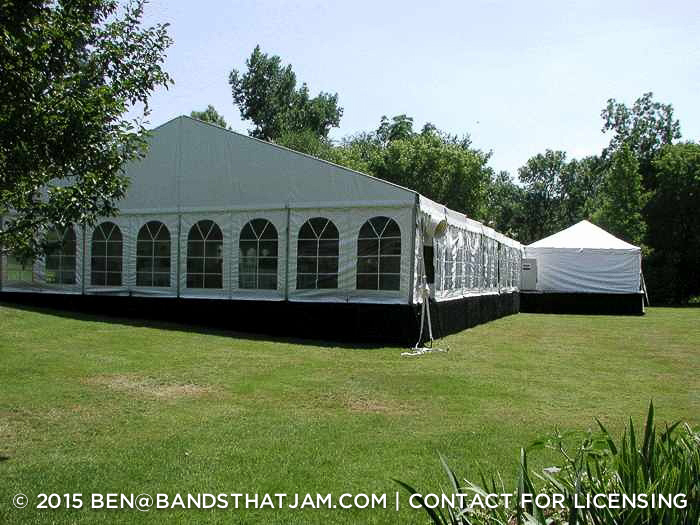 The right tent can turn any outdoor venue into the perfect setting for a wedding. Many newly engaged couples dream of having an outdoor wedding and tents allow you to do so without worrying about the cost, season or the weather. With a tent, you can hold your ceremony and reception in any venue you like -- a botanical garden, sandy beach, or your own backyard. And today's options can fit in beautifully with any wedding design.
However, there are a lot of things to consider when deciding on a tent, the most important thing in our opinion would be what to do about the floor. Sure, you could go ahead and place everything on the grass but here's why we much prefer a tent floor rental.
Almost no surface is perfectly level. Don't take our word for it, go out to your outdoor wedding venue with a level and look at the differences in elevation.

Tents over grass look amazing. Nothing looks as good as a beautiful as a wedding with a clear span or pole tent set up in the middle of a grassy field. But tent floors on grass have their own unique problems, primarily that very little of the earth outside of the Salt Flats in Utah, and the Playa at Burning Man are flat. And if you don't want all those little creatures crawling up the legs of your attendees, we'd recommend an elevated floor solution!
Stage deck-based tent floors don't need to be flat. They can incorporate stages, sunken dance floors and other elevated features that give your wedding that WOW factor that roll-out mats and interlocking plastic tiles can't.
Flash floods will ruin your outdoor wedding without an elevated floor. When it rains, it pours. Especially on your wedding day. Since the entire surface of your tent is going to capture that rain and dump it on either side, it's going to run somewhere. Most likely, it's going to run right under the tent. Plastic roll-out mats are great for covering small areas in a kitchen, but if you're dealing with 1/2" of rain in five minutes? You're looking at thousands of gallons of water coursing through your event attendee's toes in the next three minutes.
Elevated tent floors allow easy power, audio, video and data cable routing. Where do you need power? Easily route your cabling under the floor for access anywhere without worrying about having to incorporate all those wires into your wedding theme somehow.
Looking for something to make your wedding really stand out? Check our our latest blog: Get Your Grove On With A Lighted Dance Floor!
Need more information? Leave a comment, give us a call or shoot us an email today. No pressure, just questions answered!