Tent Floor Rental
Our hard surface tent flooring is based around the StageRight product. With our vast inventory of leg supports, bridging beams, and event scaffolding, we can conquer any terrain in any location, giving you that perfect event floor.
The creative team at PM1 will help you add that dimension to your flooring that sets it apart from everyone else.
A sunken dance floor adds variety; raised platforms and walkways help focus attention on special areas.
Over the years, Performance has customized flooring for weddings, corporate events, charity galas, sporting events, retail merchandising areas, car shows, and fashion shows.
New Lay-Down Event Flooring: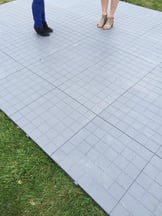 Our new lay-down interlocking tile flooring is a great budget-conscious way to add tempoary event flooring to your event.
Looking for some key information? Check out our blog post, 5 Things About Tent Flooring Your Boss Wants You To Know