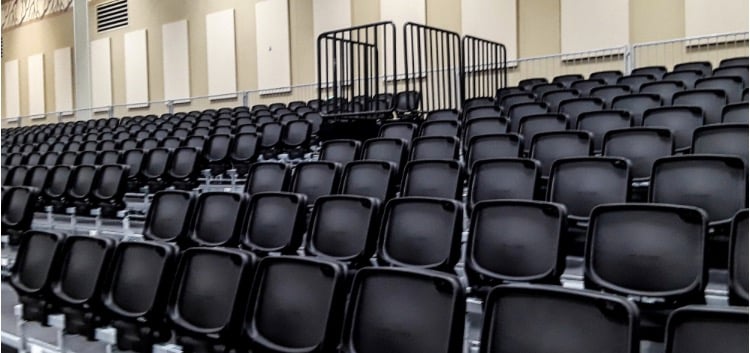 Event Seating Made Easy
We'd like to be your source for Event Seating Rental. We provide quick quotes, easy-to-implement designs, quick delivery and installation, and top-quality seats for any event type. Production Management One caters specifically to:
Concerts and Entertainment: the growth of the VIP Seating market has been huge. We've supplied a dozen tiers of elevated couches with cocktail tables and bottle service to elevated audience risers in the wings on the sides of stages. Double-decker Front-of-House platforms provide seating for promoters, the DJ's entourage, and even production staff.
Parades: we provide small-scale bleachers, elevated grandstands and review stands with optional ADA-compliant wheelchair ramps and platforms for parades across North America.
Graduation Events: Folding chairs, padded banquet chairs, bleacher seating, and elevated VIP Audience Risers and Flip-down stadium seating make up our designs for graduations and commencements. Our installation experts are well-versed in your events, and our inventory capable of filling the largest order
Sports: From our 50-seat small bleachers units to our capability of providing over 9,000 premium aluminum bleachers and grandstands, we cover anything with a ball from little league to the pro's. With the addition of our flip-down stadium seating in 2017, we're now able to provide a premium seat that's large enough for a premium ticket price while not breaking the rental budget!
Conventions and Exhibitions: When you need to fill a general seassion for 10,000 people, we've got a seat for everyone in the room. From the first 2/3 on the floor to the last 1/3 of the audience on our premium, elevated First Class Audience Risers, our capability of deploying seating for Corporate Theatre and conventions is unmatched.
Religious Events: When your congregation wants to assemble with other congregations and outgrows your house of worship, come to Production Management One for solutions. Whether you need to fill the floor of a stadium or have a worship service outdoors for tens of thousands, we've got a seat for everyone.
Political Events: From in-the-round town hall meetings to press events worthy of predisential candidates, the recent election had us busy across the midwest, as far as Javits Center in NYC and across the state of Florida. Flat-floor seating, small bleacher seating, elevated risers for press with integrated camera platforms, guardrail and guaranteed sightlines to the stage mean we've been doing this for the past 30 years. Our mobile bleacher seats add 275 seats each in about 10 minutes, making on-the-go multi-city tours not only possible, but extremely cost-efficient.
Fashion Shows: from tiers of elevated seating on plush convention-type chairs to the clear plexi runways over the pool, we have designs for the most demanding fashion-industry client.
We can't wait to share with you our new brand as we hone our mission to provide the best event seating. Stay tuned for updates, or jump to the link below to get a quote started.