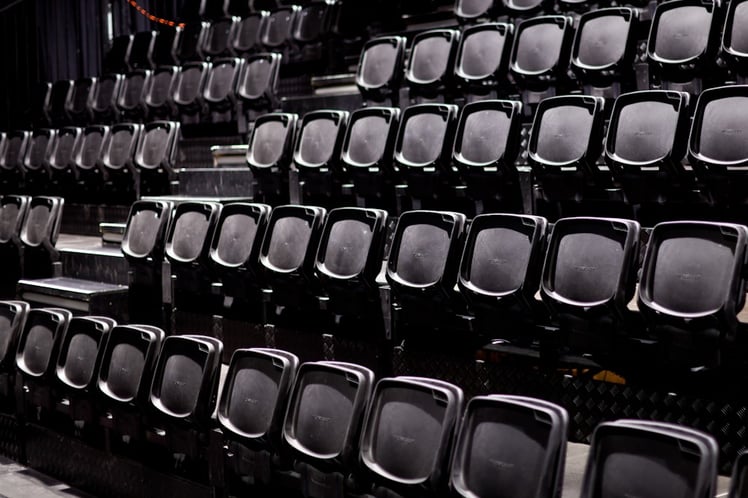 (Updated for 2019)
Stadiums and Arenas are designed for multiple applications, and when not being used for their primary sport can be configured in a variety of ways. Stadium Infill Seating Risers are created from the ground-up with industry-leading products manufactured and engineered by StageRight Corporation, BilJax Corporation and are customized to the exact requirements of your venue.
Concert Seating
When you go to a concert in an arena most of the time it's at one end of the stadium or arena, near the end. Flat-floor or stading areas only provide sightlines to the first half of that audience. Tiered Audience Risers or our new Tip-up Stadium Seating provide elevated views for the rest of that space.
Conference Seating
Corporate Conferences, General Sessions and Congresses need more than just image magnification, they need the audience to be able to see the entire stage to absorb corporate messaging. By elevating the audience above the flat floor of an arena, stadium, or convention center Audience Risers with Padded Chairs or our new Tip-up Stadium Seating provides comfort, Capacity Increases (Flip-Seating allows tighter rows) and most importantly, the elevated view your audience deserves.
For more options, and to discuss the overall goals of your event drop us a line via our "Get Event Production Assistance" form below. We realize that many of these projects take 12-24 months to come to fruition; we guarantee we'll be around!
Some of the services we provide to large-scale production companies and venues include:
Complimentary Site Surveys
Complimentary 3D Renderings
Available 3D Printed Models
Priority Reservations And Bookings
Dedicated Account Representatives and Support
Onsite Technical Assistance for the duration of your event
Competitive bids, multi-year contracts with room as your event expands