(Detroit, Michigan) From PM1's Lead Designer Ryan Adams comes an entire array of solutions for producers, venues, and content providers for summer 2020.
It's no doubt that the live entertainment & meetings industry will be going through many changes in response to not only our current challenges but other situations that require us to look at things differently and plan smarter, to ensure a safe and fun environment for years to come. What that may look like is where not only companies differ in opinion or strategy, but even governmental agencies, non-profits, and virtually every other sector of life as we're seeing. As we project into the future, sanitation stations, crowd barriers, temperature-check/medical stations, and social distancing measures built into overall designs will become the norm.
From the moment you contact Production Management One, we're going to go the extra mile for you, while putting hundreds of years of combined industry experience to ensure your attendees' safety stays the #1 priority. We're not going to limit our solutions to "6 foot on center" as many in the industry have suggested, because we understand the implications of when 800 people show up to a venue that holds 300 (as witnessed in recent weeks for businesses that chose to remain open, despite state orders).
We're not going to limit features, structures, or custom design you've been used to for years from us – we're going to find new and innovative ways to deliver for years to come, and we have MANY of our own ideas in how to address this. When you book with PM1 during these times and moving into the future, you can count on:
Smooth & safe check-in/medical station crowd flow into events

Social distancing measures that ensure distancing is maintained while stationary

In "6ft on center designs" from competitors, what happens when someone gets up to use the restroom?

What if adjacent crowd members leave at the same time, to where the 6ft distance is broken?

Provisions that require attendees and workers to wear face masks, urging them to use sanitations stands scattered throughout the event in egress paths and outside of major concentration zones, as well as suggesting those who are immuno-compromised to stay at home.

Custom solutions to tailor your venue's existing seating into usable socially-distancing seating opportunities, to recover events your organization thought were lost or postponed until next year or futher.

Ongoing weekly support, check-ins with your talent or production team in person or over video conferencing, and the ability to meet with any team in the country at a moment's notice.
While many organizations are canceling or postponing events in the immediate weeks, it's up to us reading this to come together and plan for a better future. A better future always starts with a vision, a workable plan, and a skilled team to bring it to reality. With that being said, PM1 proudly embarks on a quest to save not only the industry itself, but many friends, organizations, and businesses we've gladly supported for years and years, and for many years to come. Here are a few of the ideas, concepts and solutions we've been working on for our customers.
The Drive-in Concert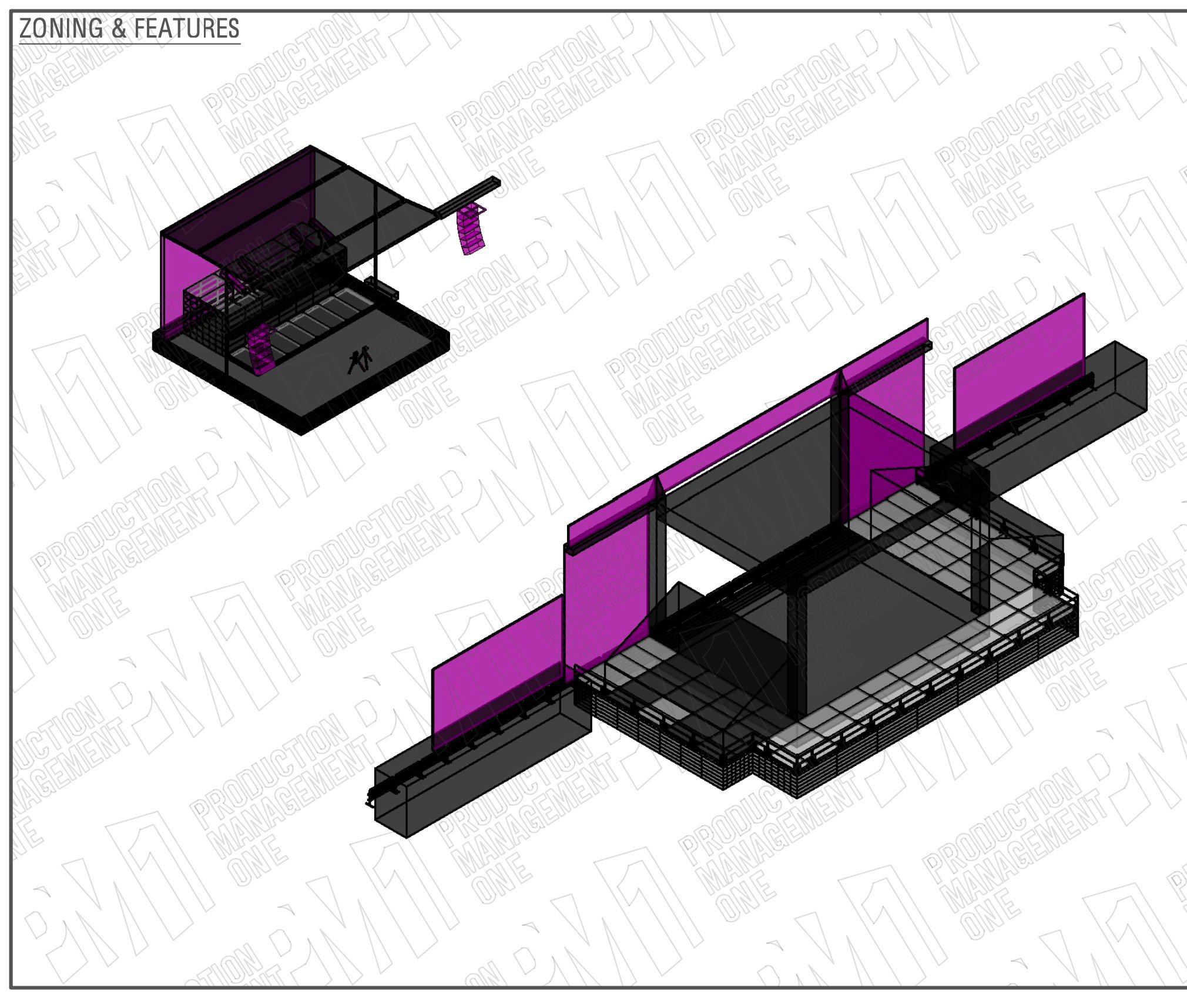 Unless you're providing attendees with space suits, options for creating safe spaces for attendees are currently very limited. Many of you have approached us with ideas for Drive-in concerts (and even pop-up drive-in theaters) to give people outlets to get out of their homes and provide the live event experience. Whether it's a small mobile stage production for 100 cars, or a huge venue's parking lot filled with thousands on an 'in the round' stage with 100' LED screens and sound delay towers, we're loving the creativity, and dedication to safety that we've seen from our customers. Some of you have been able to get go-ahead from congress, and others still struggle with state governments taking a more cautious approach.
The Drive-Thru Graduation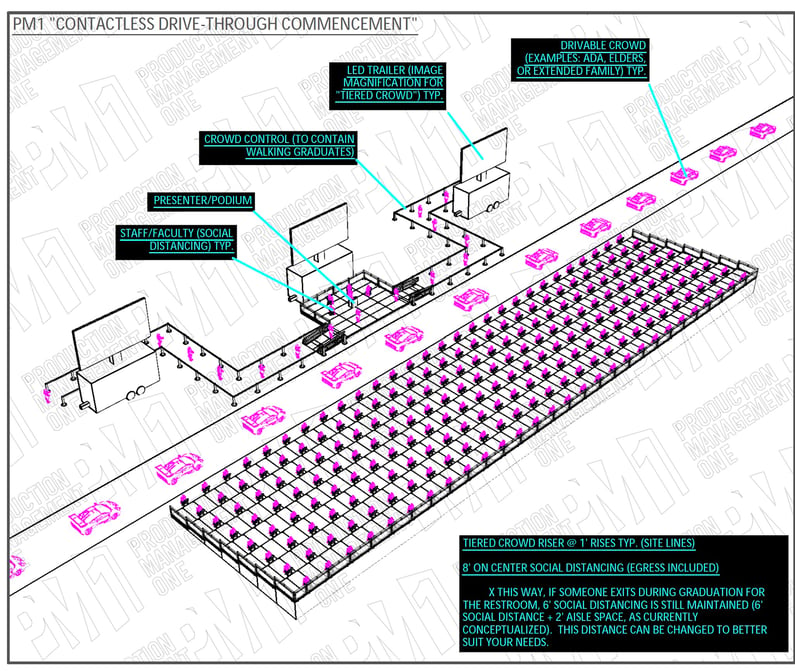 For our graduating class of 2020, our hearts go out to you. The loss of the shared experience of convocations and the salutations that happen alongside your journey through school are something that are very hard to make "virtual". Confidently, many schools, colleges, and universities have approached us with this concept, and we look forward to sharing some of the footage with you. While no replacement for shaking hands with the dean of your college or the principal of your high school on stage in front of family and friends, it's an attempt to at least have a moment to retain in your memories of having graduated.
Drive-in Worship Services
The ability to gather in worship is a founding principle of our country, without interference from governments. The separation of church and state has created many hot debates, a few arrests, as worship services moved to online-only, or small congregations and groups gathered together in the name of a higher power. Similar in concept to the drive-in concert, but lacking the "concert audio & lighting" portions of expense, these may range from small stages with audio done over FM transmitters in this style of yesterday's drive-ins to amplified sound for the smaller crowds. Thanks to our customers in these houses of worship for bringing us these challenges and for providing your congregations with the ability to gather together safely.
Extended Capacity for Outdoor Restaurants, Classrooms for Fall 2020
As restaurants find ways to reopen for eat-in patrons, PM1's been providing drawings and concepts for how they can retain their original capacities with outdoor covered seating.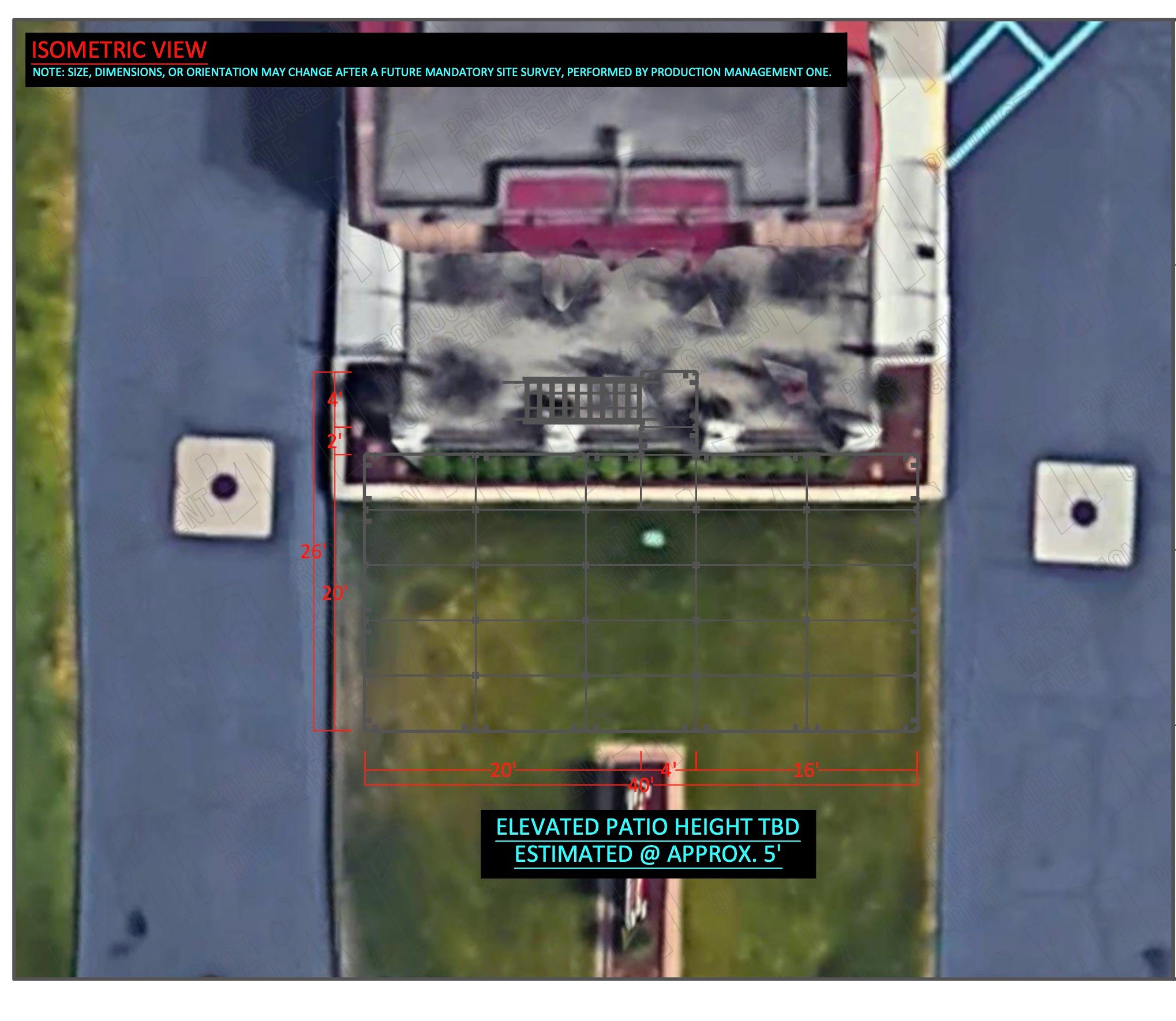 We're also partnering with local tent companies to provide options for limited classroom space, and even outdoor classroom space with turnkey packages of frame tents, elevated flooring, HVAC, power, and AV. Our approach on this integrates our existing trusted providers, our full production management capabilities, and a "one-stop" approach to these solutions.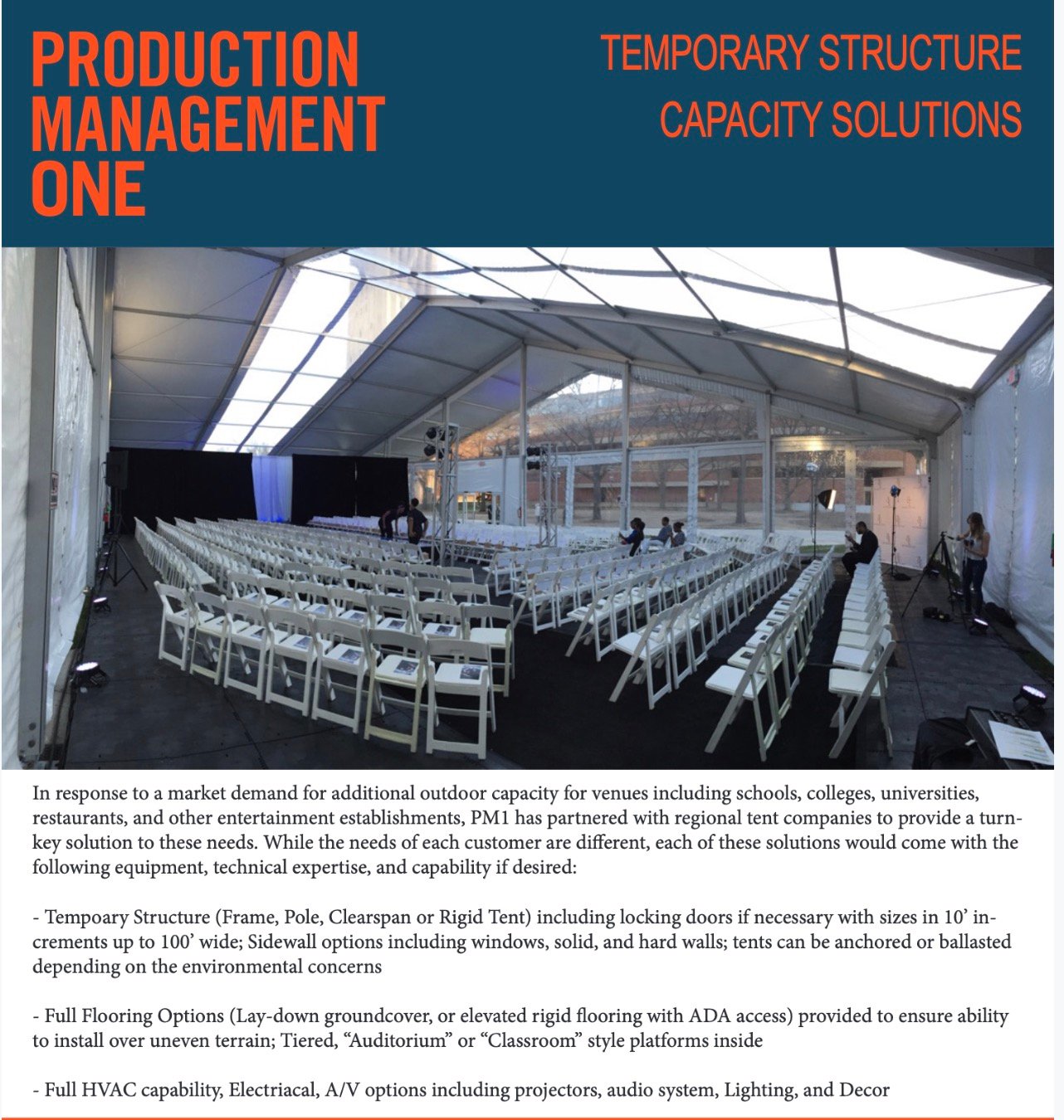 Backyard Pool Weddings & Events
Waltz On Water by PM1
PM1's Waltz on Water lifestyle brand has been unique through the past few months in that we never experienced any real slowdown, or drop in the number of people reaching out to us about holding weddings, graduations, and special events at their homes.
The key to this has been that you're in charge of who you may decide to invite (or not invite, AUNT JUDY!) and that beyond anything, those couples who are still in love and want to get married will still want to do so. We've updated our capabilities and designs for backyard pool covers, venue-based pool covers, and have partnered with some amazing wedding and events planners in the past few months to create a "yes you can still get married" solution that's safe for their families and close "quarantine" friends. Book a consultation with one of our pool cover experts over at our Waltz On Water site for the next steps, a google earth virtual site survey, and a quick ballpark quote.
Virtual Events, Hybrid Events, and the Return To Live Events
If you're interested in our complete approach to these events, please visit our PM1 Studios Page for our overview video, and how we can help.
As much as we'd love to snap our fingers and return to normal, we're well aware of the hurdles, safety measures, and protections for our staff, your staff, and your participants that will need to be discussed, planned, and implemented. Right now we're fully supporting multiple clients for Virtual Events ranging from town halls, galas, fundraisers, virtual concerts with virtual meet & greets, virtual meetings, product launches and more. We're also starting to see something that's starting to give us hope; what we're calling the "Hybrid" event with a live panel connected to a virtual audience with feedback monitors to see the participants asking the questions, the ability to hold a small group of people on a stage distanced apart, but close enough to hold a conversation "in person".
And lastly, as we study the data coming out for what else will happen "When Live Events Come Back" we'd like to share a few great studies that we've been looking at lately:
Experiential Agency Limelight Platform's Ebook, "What to expect when events come back", available as a digital download after filling out their form,
Also interesting (as we have international clients operating worldwide) is the European agency RIFEL (Research Institute for Exhibition and Live Communication) report on Event Safety and Security in the context of COVID19.
Lastly, there's the ever-changing CDC recommendations that we're currently watching here (note link active 5/22/2020: https://www.cdc.gov/coronavirus/2019-ncov/community/large-events/mass-gatherings-ready-for-covid-19.html
We'd love to know what you're reading. Leave a comment on this post via LinkedIn or Facebook and we'll try to share more sources of knowledge.