---
Updated for 2017!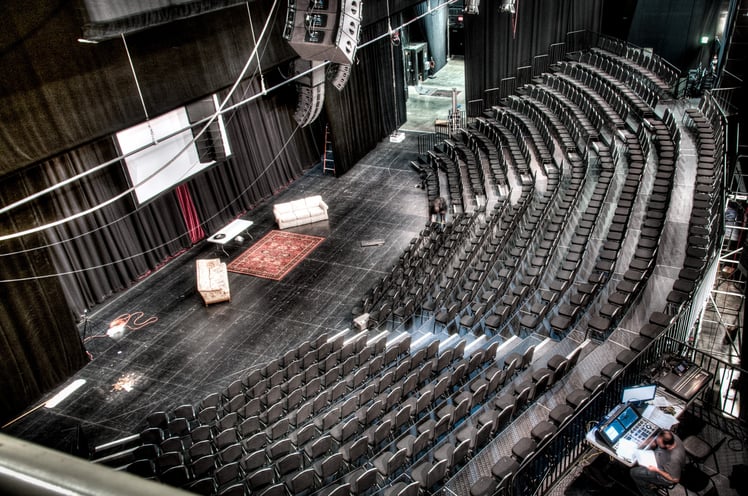 Starlight Theatre "Flips the house" in Kansas City, turning their 12,000 ft2 stage into an intimate theatre for hundreds of guests.
---
The Story:
During the summer months, Kansas City's Starlight Theatre hosts everything from Broadway musicals to touring rock concerts. During the winter months, it used to stay dark. That all changed in 2014 when they decided to take a chance and run a few shows ON the stage and put their house (theatre term for audience) on the stage.
Using custom wedge decks, we created an intimate environment with sight lines from every seat, a FOH moved inside one of the corners (pictured) and an egress route off the top row. Performance staging also supplied a camera platform centered on the stage.
For our clients looking for the perfect theatre look, we now have a pedigree. The photo above represents our second installation at the venue, and we're looking forward to more.
Curved Audience Riser Specs:
Using custom wedge pieces, PM1 can create curves with the audience riser, making 90-degree, 180-degree, and even 360-degree surrounds. Our audience risers are available in either fiberglass or carpeted surfaces, include safety rail, skirting, and steps. Aisle lighting is available for dark environments.
For more information, check out our Audience Riser Rental page.