There were much larger events in Miami yesterday. There were stages that eclipsed this one in size exponentially. We'd just pulled hundreds of decks out of the stadium parking lot up the road from the previous weekend's ten-year mega-festival. But on THIS Monday, THIS stage was important.
When I moved to Miami in 1992 the day before hurricane Andrew Wynwood wasn't a neighborhood. There was no "Wynwood Arts District." There was no "Wynwood Fashion District." Locals referred to it as "Little San Juan" or just "El Barrio". It wouldn't be until the early 2000's that real estate would see investments in the area with the Midtown district starting construction in 2005.
In 2009 Miami real estate developer Tony Goldman thought to use and promote local graffiti in situ; creating a "place" called Wynwood Walls. That original commissioning would contribute to the growth of the neighborhood rich in color, depth, and using nearly every wall as a backdrop for art. Artists came. People came. All found nooks to add their marks. Today you can't walk a foot without being surrounded by art, even at your feet. Wynwood's only remaining art-free space is the skyline.
Our event's venue was The Wynwood Walls, located at the corner of NW 26th St. and 2nd Avenue. It takes up over 1/4 of the city block. It's open for tours to the public. It's managed by Goldman Global Arts. And it happened to be just one stop on a nationwide tour for one of our clients.
It's not my first trip to Wynwood Walls, but my first event installation here. Venue access is easy with two wide-opening gates on the street that led directly to our "wall". It's nothing like any wall I've ever used for public speaking; I loved it immediately.
An wrecked airplane's tail peeks at you from the left. Atop it is a 3D cat. (Artist: Bordalo II) The wall itself is by JonOne with bits of Ron English poking up above it. Two Himmelli geometric sculptures hang from the trees. Power's only 200' away. It had just poured. There is no rain option. Let's get it installed.
It wasn't the first time PM1 had worked with this client. I'd been up north when the campaign launched and PM1's David Plevan handled something a bit larger at the historic Studebaker Building in South Bend, Indiana.

PM1 handled production here, as well as a few other stops on the initial tour including Iowa and New Hampshire. And Miami? The two venues couldn't be more different physically. But their natures were clearly aligned as iconic, meaningful, and with rich depth and character.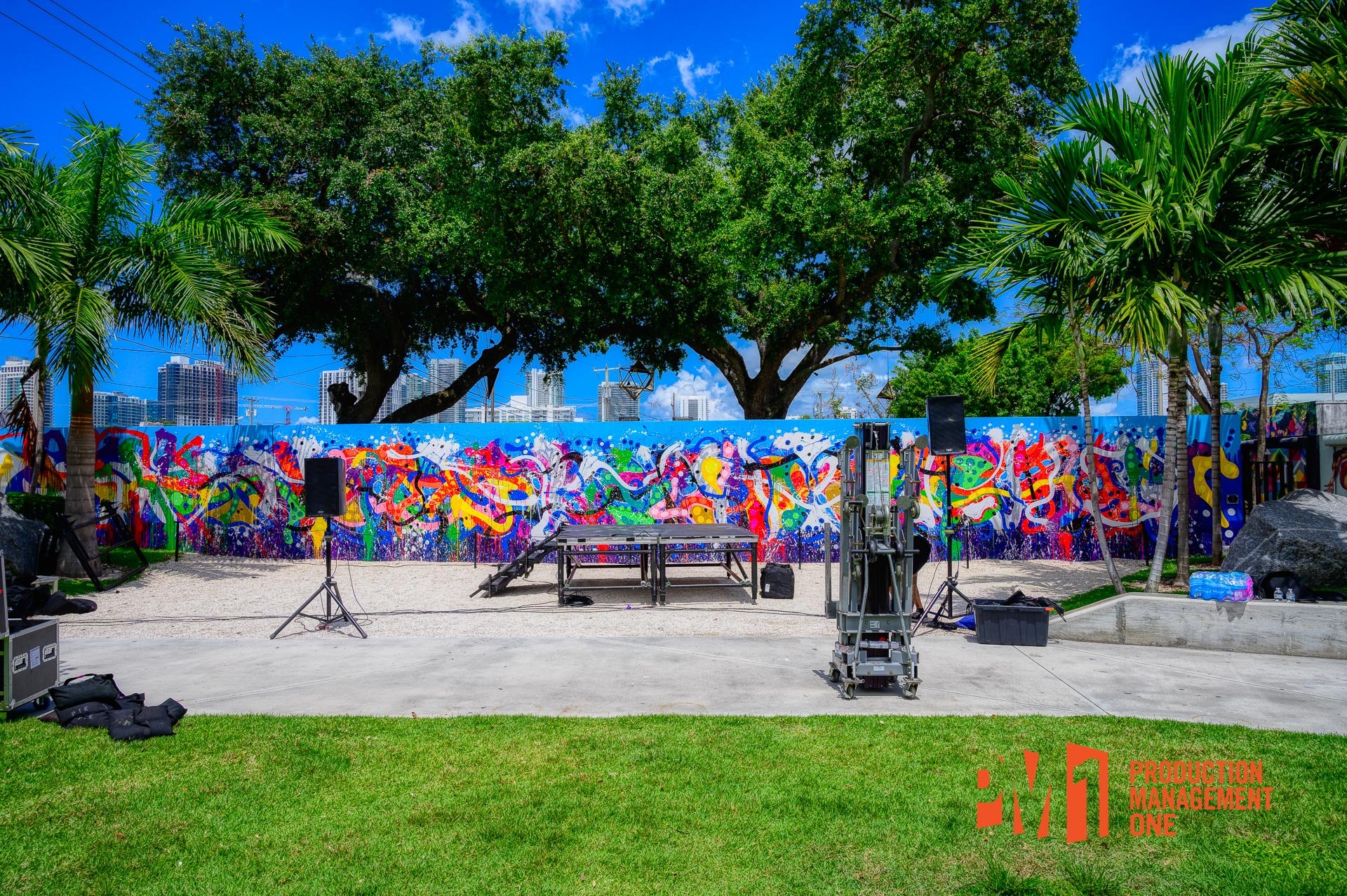 We provided full sound for 1,000; spoken word as well as a local performance artist Starlin Gold who got the crowd ready. Two other politicians and the candidate's spouse were doing intros.
That stage? It's just an 8x8. We lowered it from the original 36". It's probably the smallest thing you could call a stage. But for us, it's someone's dream. Local party leader Connie Coopersmith (our onsite contact) had a vision,
"My goal was to have the candidate only on the stage so as to better showcase the art. And the revitalization of the city."
On a lot of other sites you can find the stage bigger. For almost every event I've ever done in 25 years the stage was bigger. I'll admit that it was a standard, StageRight-brand deck with a standard understructure. The skirt was nice, full-weight outdoor with velcro attachments, but in the Miami heat, we still gaffed it so it didn't fall. For those few minutes, someone counted on PM1 to provide a platform for their platform.
The press riser? Just one 4x8. One set of stairs on the main stage, client axed the rear rail. Even though the candidate would be facing into the sun, we still lit the stage up like full sun just in case it ducked behind a cloud - which happens about ever 15 minutes in May in Miami. Inside the gallery behind us was a small drape wall to ensure privacy for the small, private reception inside directly before the speech.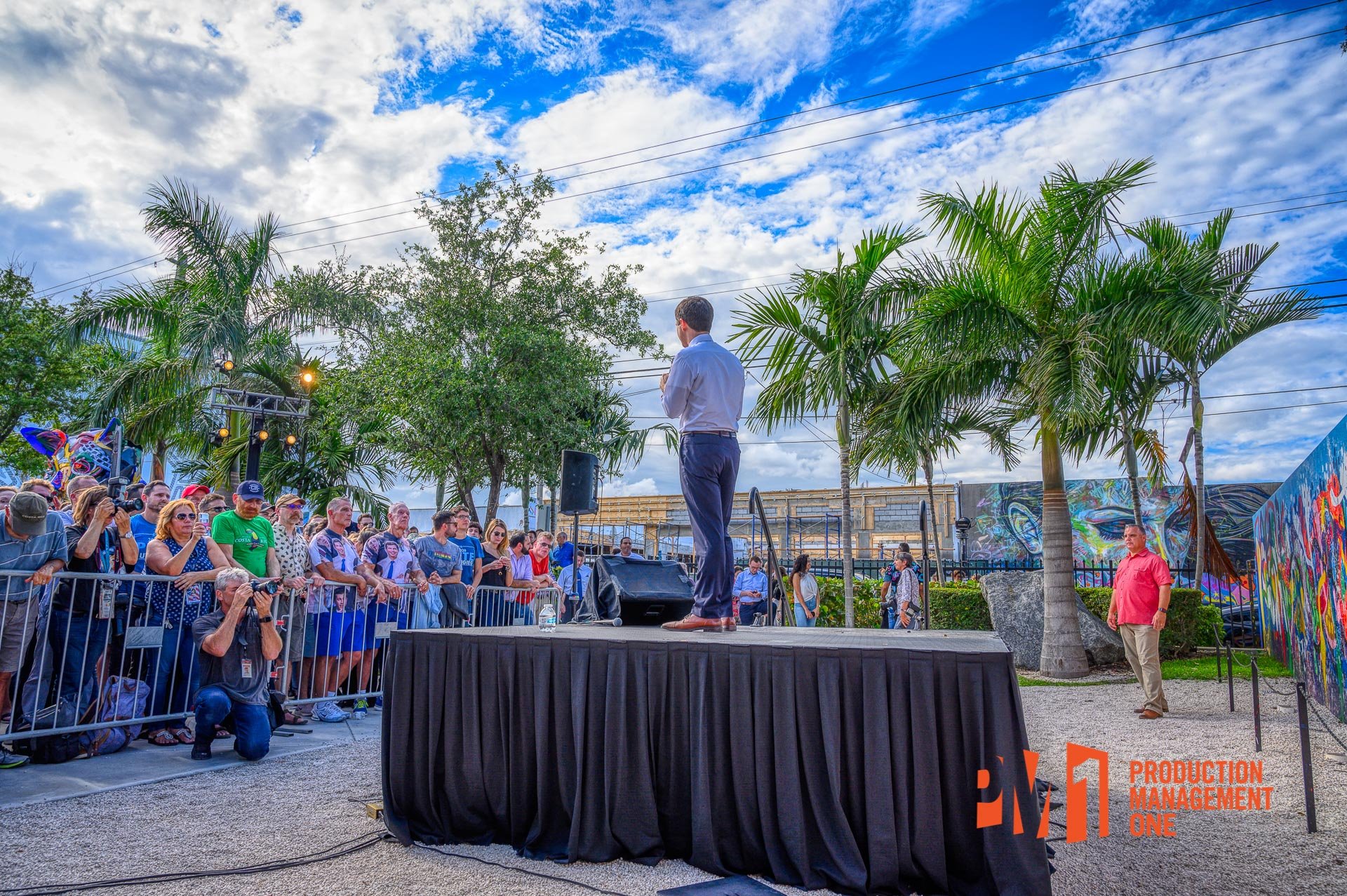 The press turned out in abundance, some of them arriving at least 2 hours before doors to get their photos and stories ready for the evening news clips. The entire event was over in less than an hour. Many stayed behind for the opportunity to share their support, encouragement, and selfies. I can't tell you much about what was said, or how it was heard, because right at the beginning of the speech I crawled across the upstage gravel to put in 4 TENSA barriers where the photo above was taken. Before you ask; PM1 just had it available, and it showed up magically when the client needed it.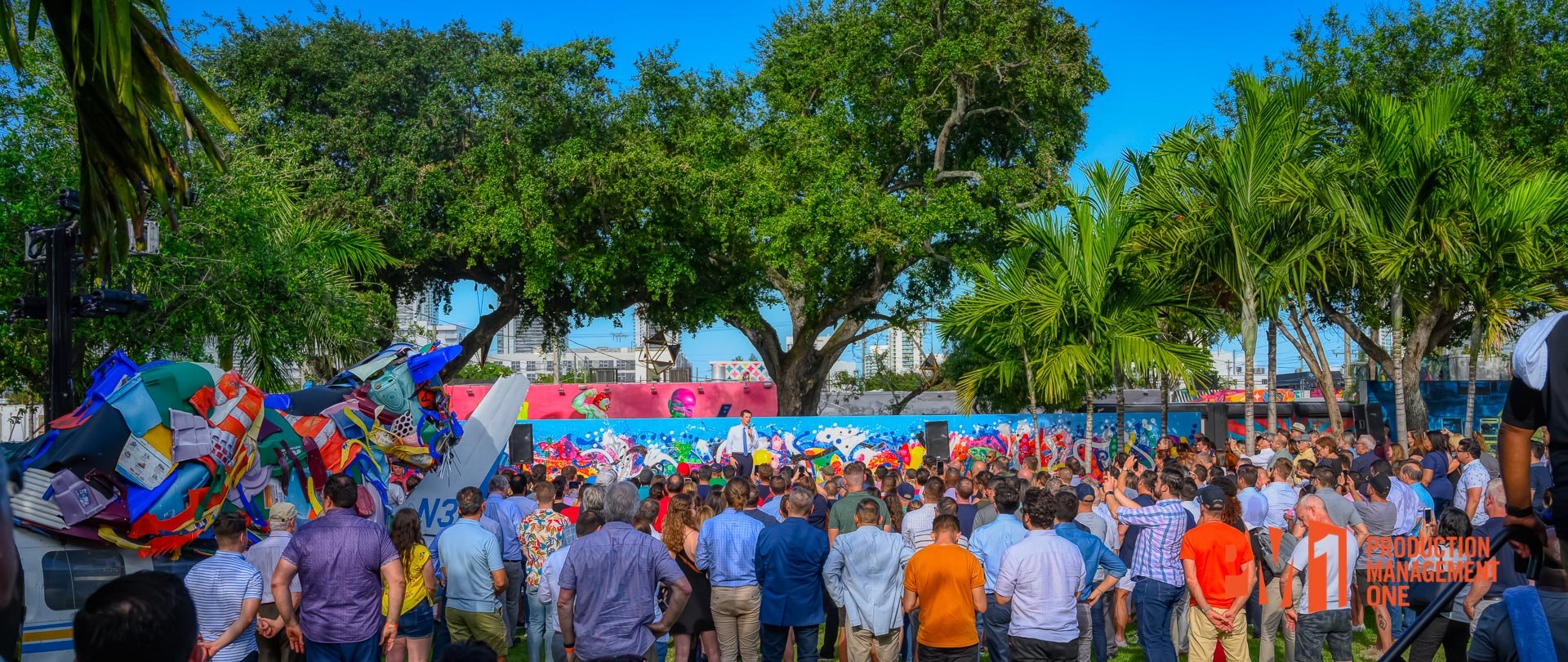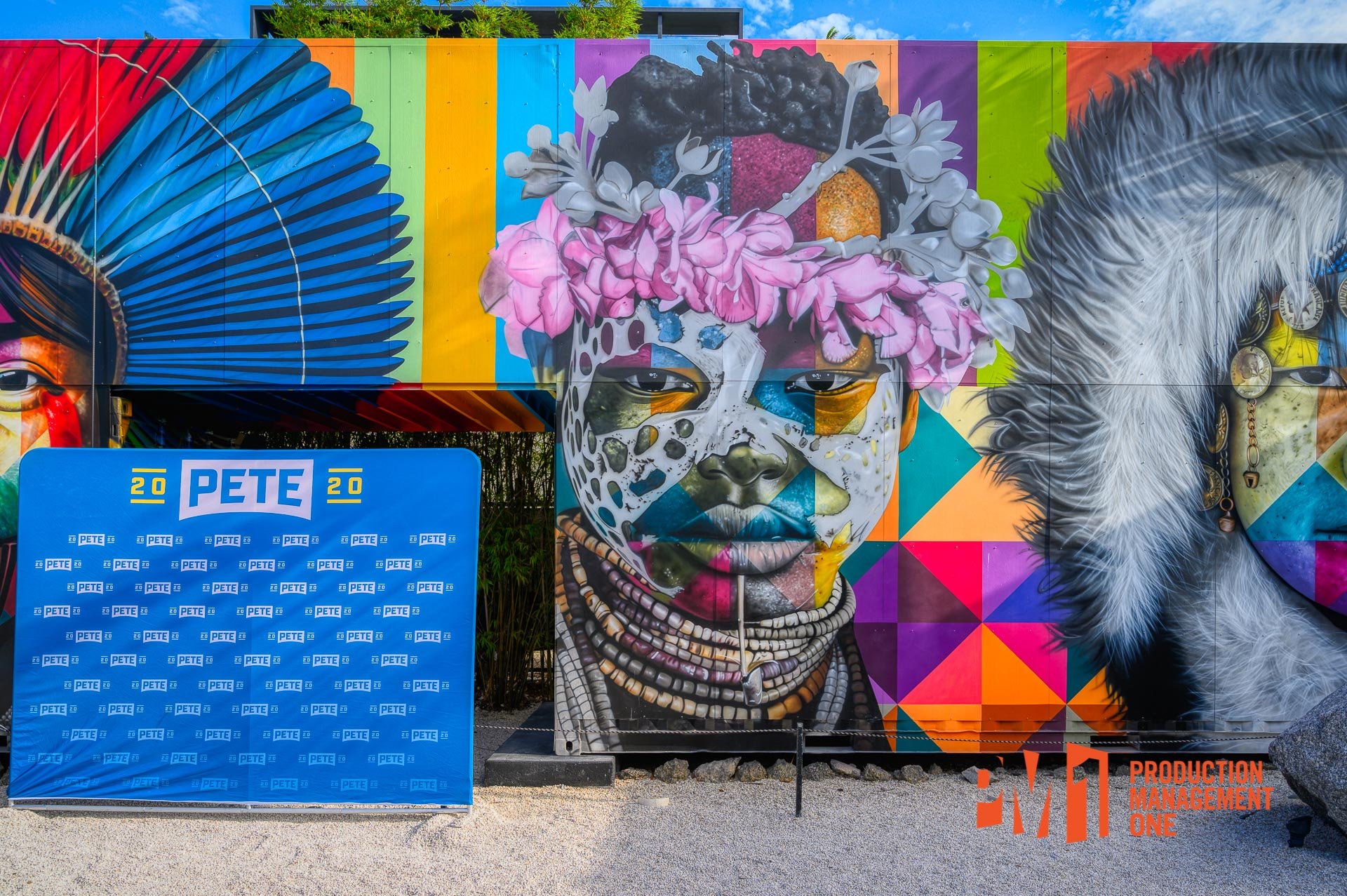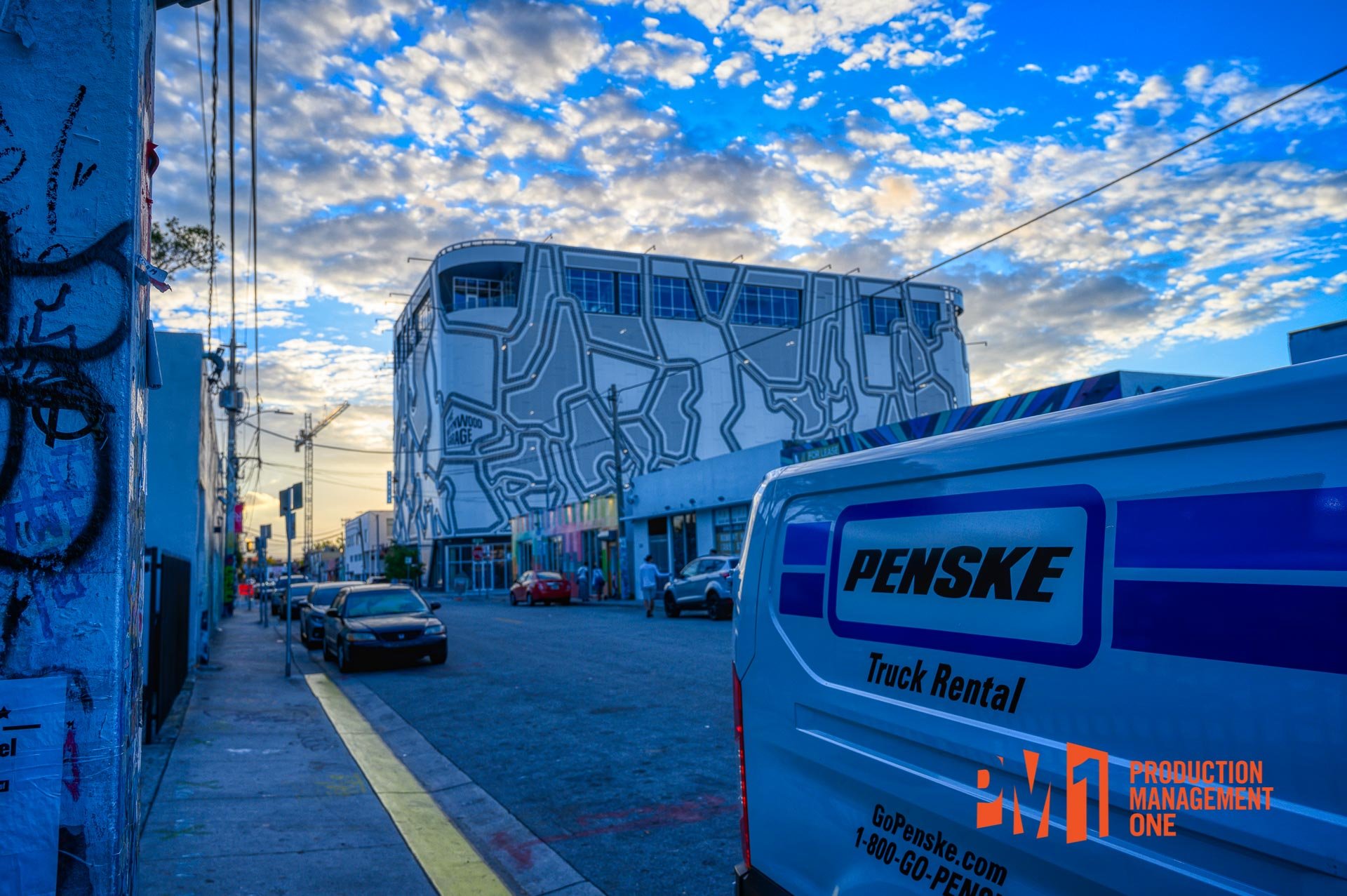 Our most sincere thanks to Alexandra at Goldman Properties, our host and venue contact. Thank you to your cordial, professional, and efficient security for keeping the crowds at bay every time we opened a gate to bring in gear. Thanks to Connie Coopersmith and Honey Rossi for the opportunity to help the campaign again on this Florida tour. Best wishes to our friends on the campaign and your dedication to making it all run smoothly; I can't stress enough how important it is to work with professionals in this industry. I am looking forward to working with all of you in the future.
While it's not everyday that I get out of an office to play PM/TD with the gear, I have so much appreciation for our clients, their events, and all the people in this industry that make it hands-down better than anything else. Good night, Miami! - Ben (CMO & CXO, PM1)