(Gaithersburg, Maryland) On March 13th, PM1 converted warehouse space into studio space to provide a secure venue for events that had seen their venues cancel overnight. Two days later the lockdowns started, and we've been pivoting ever since.
Virtual Events
PM1's Lineage (10 years of DC-based Electrum Productions and Detroit-based Elite Productions) contains hundreds of live-streamed events going back to the 2012 presidential campaigns. The company's tech teams have been sending content out to Facebook and Youtube since the capability existed, often from remote locations over portable internet uplinks.
Today we find wedding DJ's and everyone else claiming to be experts in Virtual Events. Without a background in Live Event production, we don't see how this is even possible. PM1 Studios approach to each event is logistically similar to every live video event production we've ever done, plus an added component of encoding and connecting to endpoints (Facebook, Youtube, Private Labels like Vimeo, etc). Whether you're hosting a town hall, conference, meeting, product launch or concert, we'll make it seamless, and give it the same dedication to quality that we would in person. But instead of going live from camera one, we can go live to cell phone 1, tablet 2, and laptop 3.
Equipment Upgrades
For those who care about image and audio quality, we offer piece-by-piece upgrades to your systems from a base level of webcams, microphones, and lighting to high-end options like 4K cameras attached to capture cards on MacBook pro's to LAV mic's, backup shotgun mic's and push-to-talk devices to ensure proper feedback, coaching and monitoring of your participants, just like on network TV. For a mid-range option, PM1 recently invested into some all-in-one devices that combine a 1080p camera, professional condenser microphone with guard, and ring light, with a single USB connection that work immediately on windows and OS X. We offer immediate image quality improvements with TV-grade portable LED lighting that's ready to ship directly to your home; and we've even mastered the art of sending in a PM1 video tech wrapped in Tyvek if you need it installed professionally for a longer-term solution.
Virtual Event Consulting
For many of our clients, this may be the first time they've ever "Gone Virtual." Our attempt is to make it as simple, transparent, and pain-free as possible. Again going back to our approach for live events, and our history with clients ranging from the Fortune 500 to NATO, the Joint Chiefs of Staff, and Worldwide NGO's we have the ability to uphold standards of excellence, production, and expectations that you'll bring to the table.
Beyond Zoom
For many of those that we've consulted with in the past two months, we can see that you're adept, understanding, and becoming aware of the limitations of consumer-level conferencing packages like Zoom. We offer capabilities of layering in external video, live video feeds from alternative sources, layering Powerpoint/Keynote slides with "picture in picture" participants on the screen, lower thirds, title graphics, countdown clocks to "Live" and more. On a daily basis we're researching web-based applications that are coming online that offer more participation, interactivity, and are bringing back some of the "social" aspects that only a live, in-person event can give. We're also able to offer virtual ticketing, virtual "swag bags" of digital downloads, and participatory elements built into the stream like polling, Q&A methods, and even can bring in your Facebook or Youtube comments as an overlay on the stream. Lastly, many of you ask for engagement and attendance metrics for your events, and we're well aware of what platforms to suggest for any or all of the above.
Weymouth X PM1 X IllumiNative
Recently long-time production partner Weymouth Strategies brought us an ideal challenge; a live-streamed, town hall production with 20 participants and two moderators. The catch? We'd go live in a week. With Weymouth handling all advance and client-side preparations, our team approach to the event provided Native American Rights Organization IllumiNative a livestream that garnered nearly 3500 live viewers, and over 225,000 views since it aired on multiple Facebook pages concurrently.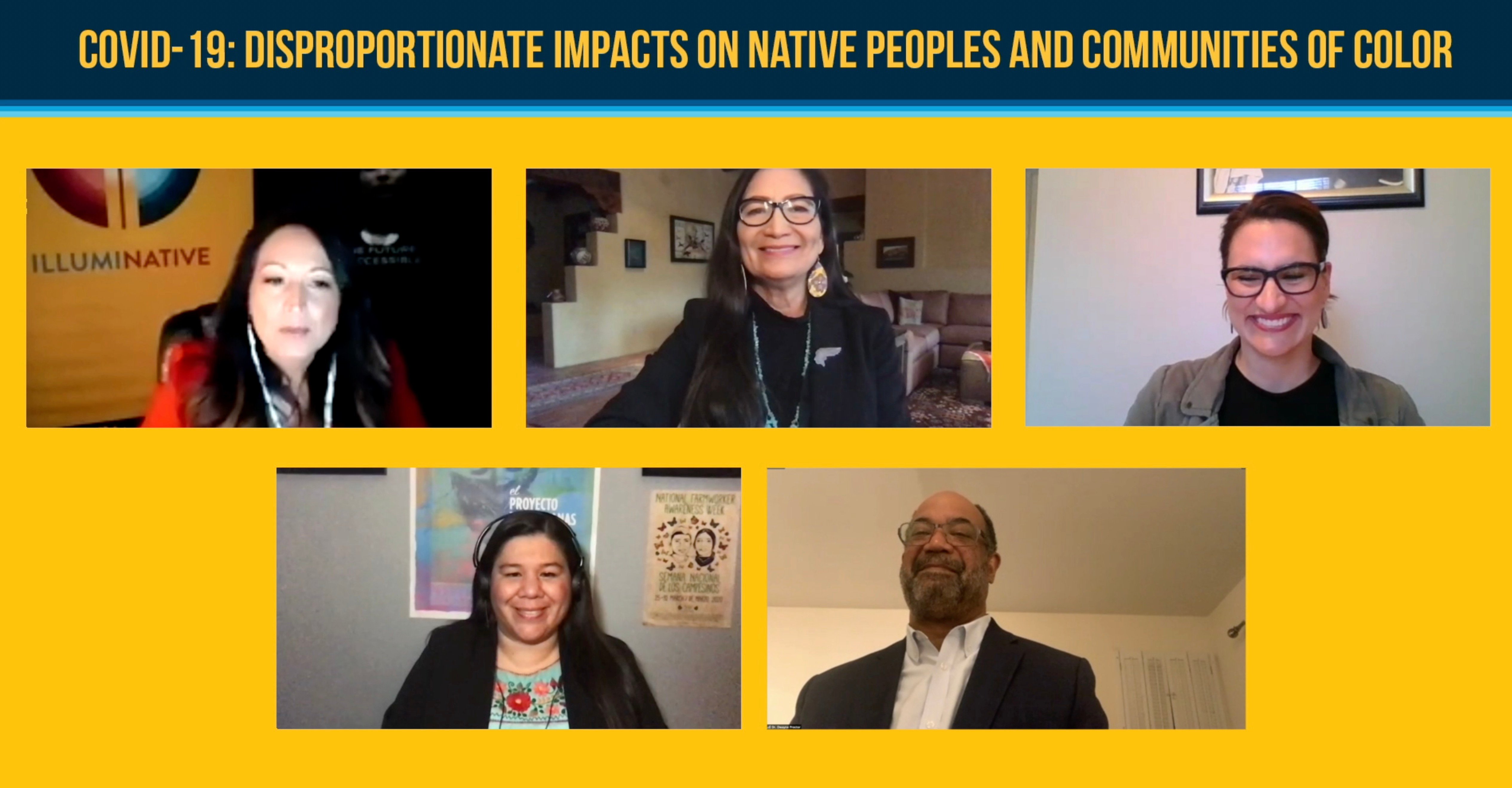 The nearly two-hour event featured up to six speakers on screen at any time from a combination of cell phones, tablets, and laptops over residential wifi and 4G cellular data streams and provided them with a true platform for their voices to be heard. Many thanks to Weymouth for their partnership, attention to detail, and dedication to ensuring their client had the best possible event. We'd love to share the case study with you, just click on the link below to schedule a 5-minute discussion, and we'll send it out immediately.
What's Next?
As we continue to invest in the technology, know-how, and people that work behind the scenes to make these events happen, we'd invite you to participate in our short 2-minute customer survey. A few weeks back we purchased about 800 hand-sewn cloth masks from our customers over at Detroit-based Refuge for Nations (Yes, the amazing 501(c)3 that we donated a stage for their 2019 Fashion show!) and will be giving some away to one of you every week that the survey runs. If you'd like to provide any feedback, please begin the survey below. For the full PM1 Studios offerings, please head over to our PM1 Studios Overview page that includes a lead-in to your first completely free consultation with our team. If you're reading this and want to talk right now, call 888-4-PM1PRO (888-476-1776) M-F, 8-6 (or text us after-hours on the same number) and start right now. Your message deserves to connect with your audience.
It's our mission to ensure that your Virtual Event goes off without a hitch. And the more we learn together, the more we're learning that by this time next year, we'll just call these events.
We look forward to sharing more content in this realm, education and of course the results of our surveys once they close on 7/1. Please enjoy the Memorial Day weekend, and above all else, stay safe, friends.