(Mt. Pleasant, Iowa) Because our blog is called backstage, we sometimes have an opportunity to present our own viewpoints as we travel. This is written from my personal perspective as I joined PM1's Nationwide campaign production teams for two Presidential Campaign events in August. PM1 has no official stance or supported candidates in the democratic process, we're just happy to support all sides and ensure that the events go off without a hitch no matter who's on stage! - Ben Slayter, PM1 CMO/CXO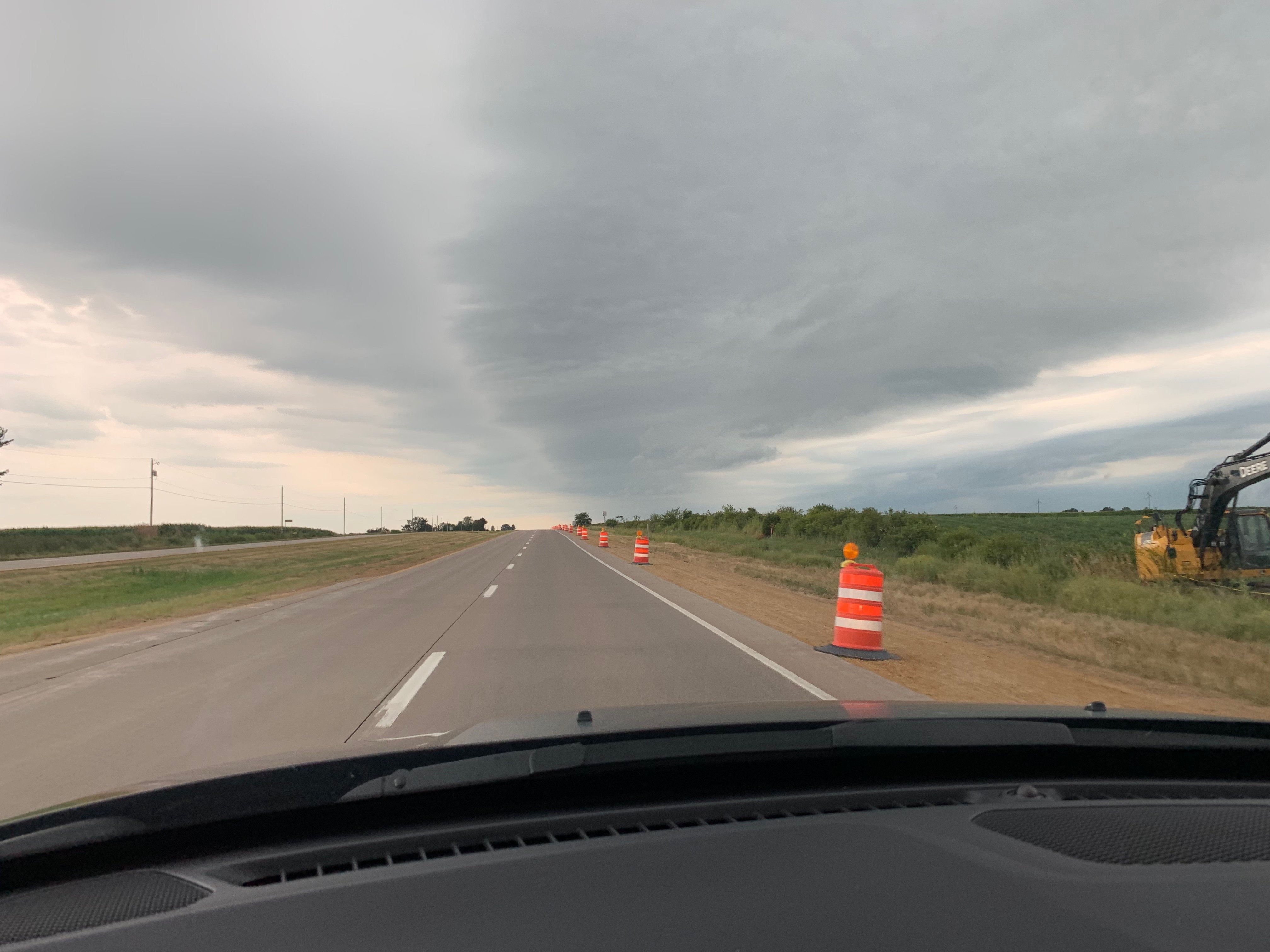 Flying into the Quad Cities airport, I was happy to be back in the Midwest. Open skies, a familiar landscape, and best of all, midwest values, people, and ethics. These are the kind of people who still don't lock their front doors, and don't really need to. First stop would be the town of Mount Pleasant with an event scheduled for a 10 AM load-in, 6PM doors. Simple stuff as far as our crews go; a small stage, press riser, audio, camera cut riser, some barricade, and some flags. The not so simple stuff? Huge thunderstorms approaching, summer style. If you've never been in a summer thunderstorm in iowa, just keep in mind that these are the things that spawn hail, tornadoes, and 50-MPH downdrafts. Or maybe just sprinkles!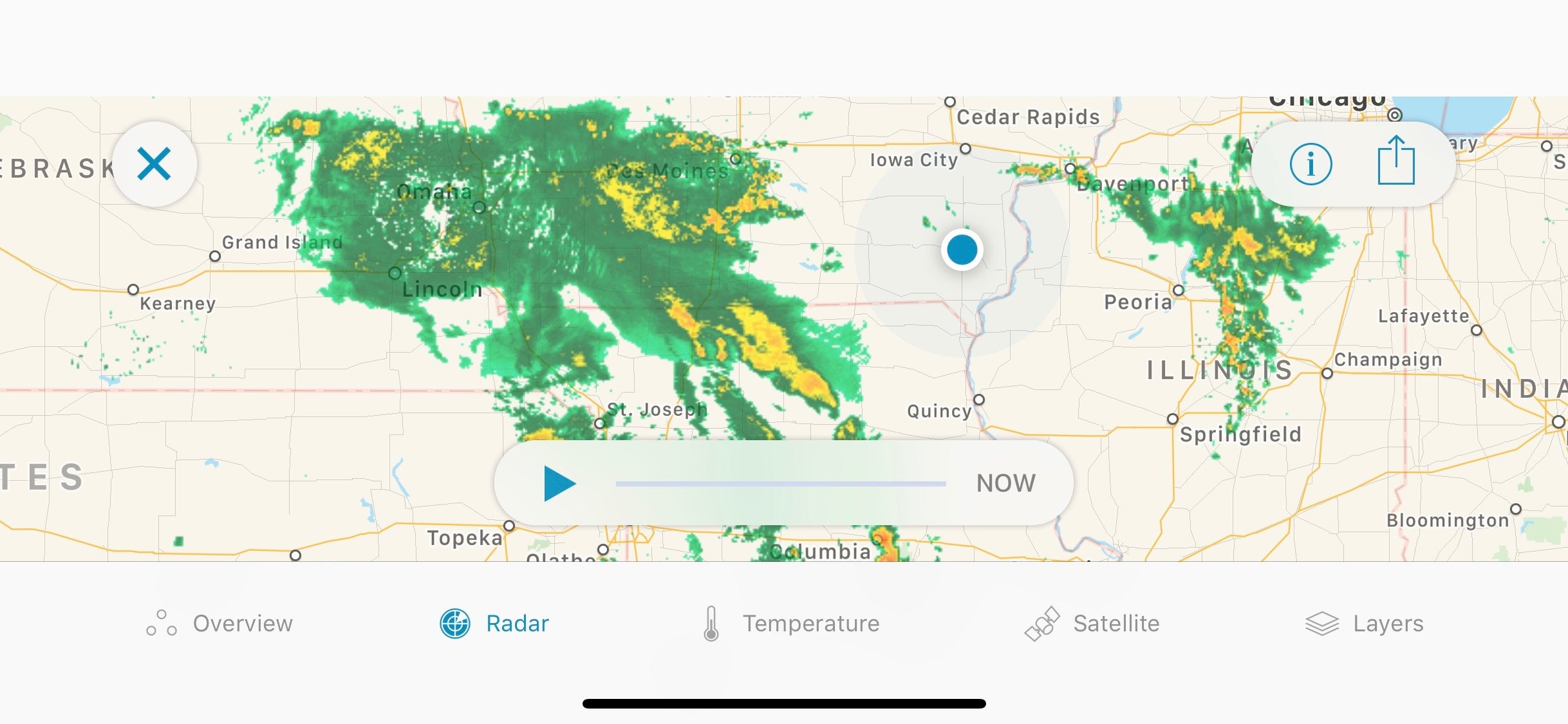 A (completely outside of the scope of the crew's leads) decision was made to proceed with the installation. No sooner than the speakers had been plugged in for a first sound-check did we get the word: "We're moving it inside".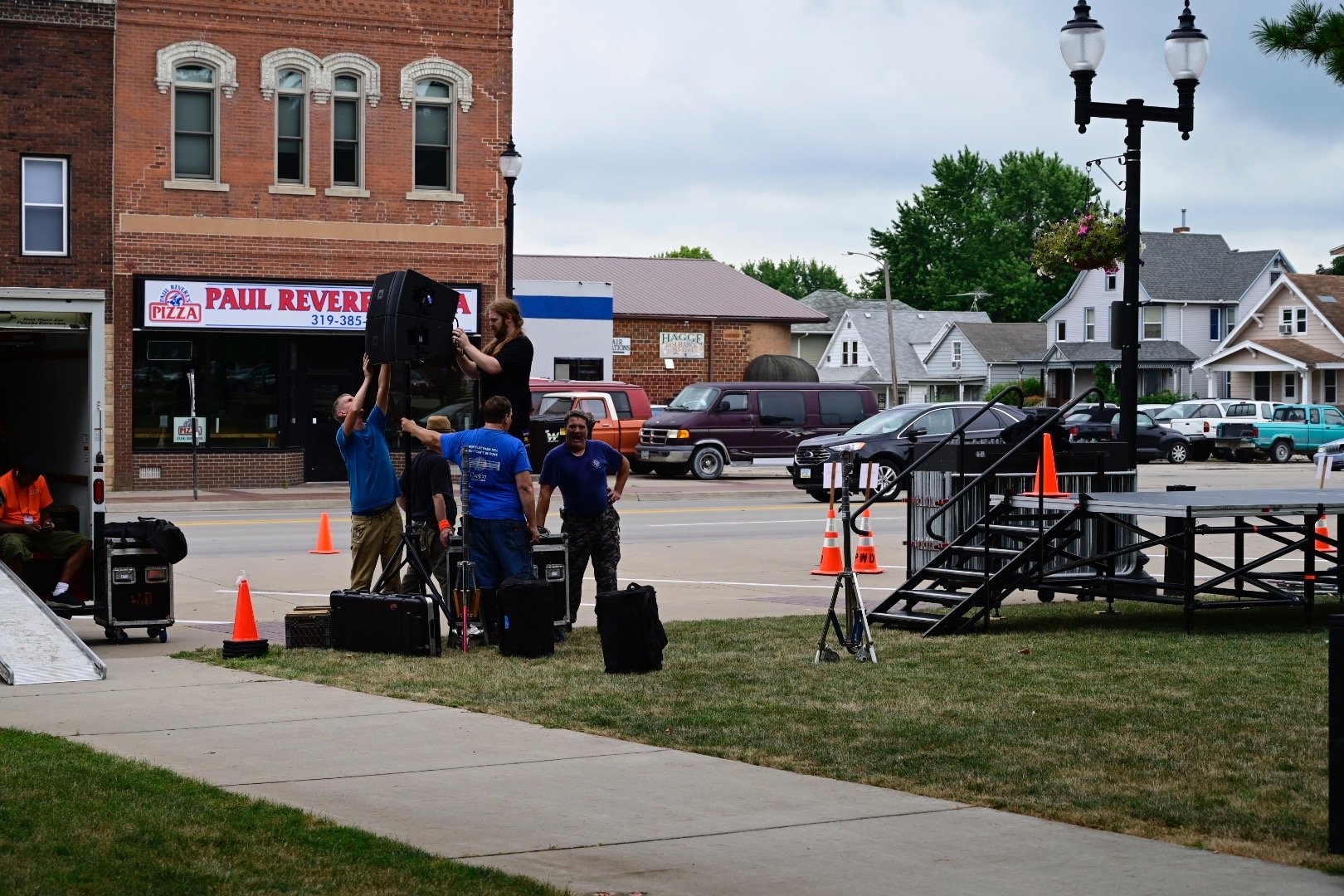 While that may have put a huge monkey-wrench into the plans of many production companies, our crew seemed to have a sixth sense that this was going to be the case all day, and quickly struck the already-built event in less time than it took to say "Free Pizza for Everyone" to keep things rolling. The event's doors would still open at 6, and it was now 3:30 PM. In a moment that screamed, "thank you universe" we learned that the alternate site was about 3 blocks away.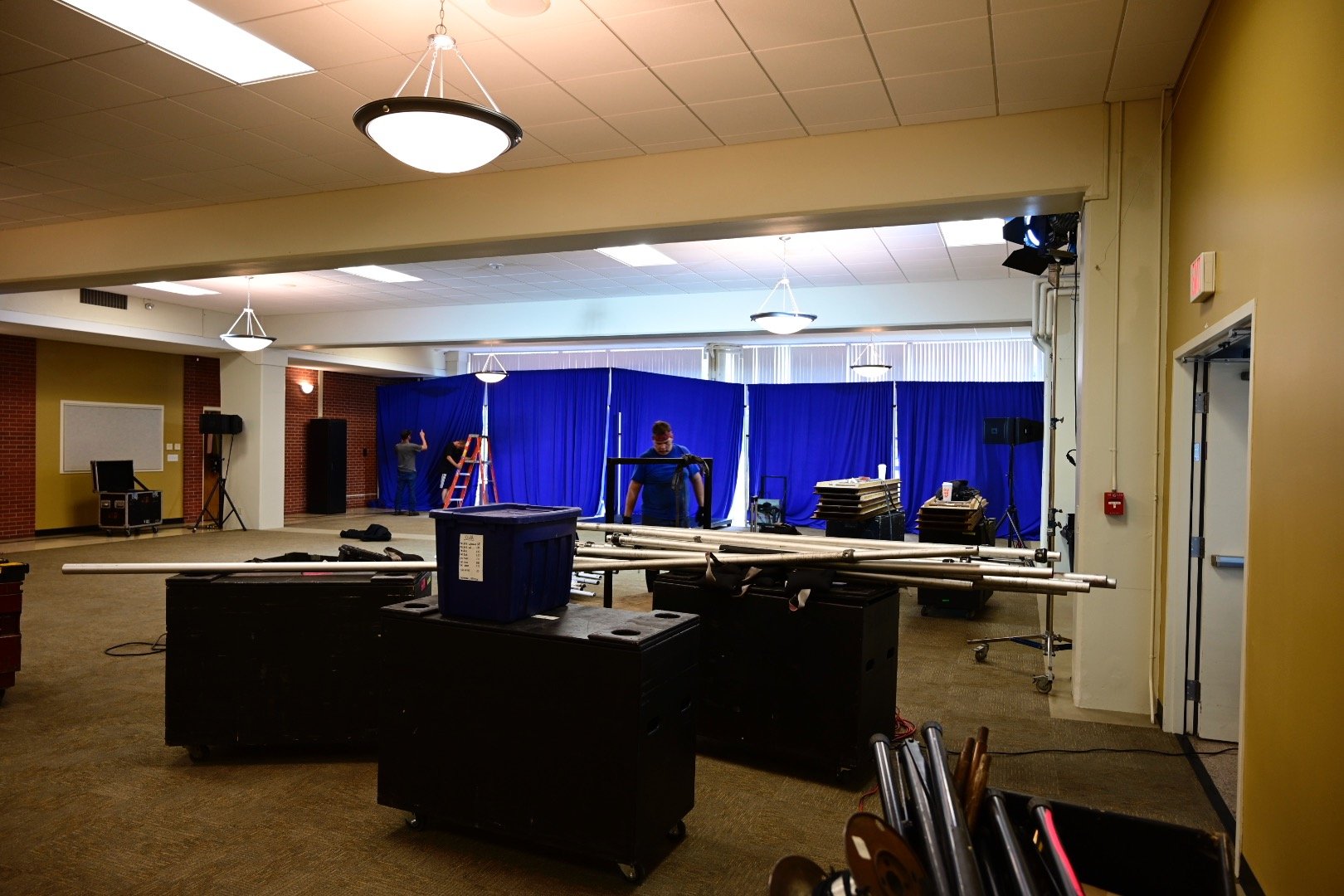 Since we always rock presidential blue drape on the trucks (even for outdoor events) we quickly scurried up the street and started installing. The press riser would lose some depth, no height was needed due to the low ceiling height, and the two cases of Tensa Barriers would be used instead of the barricade previously laid out.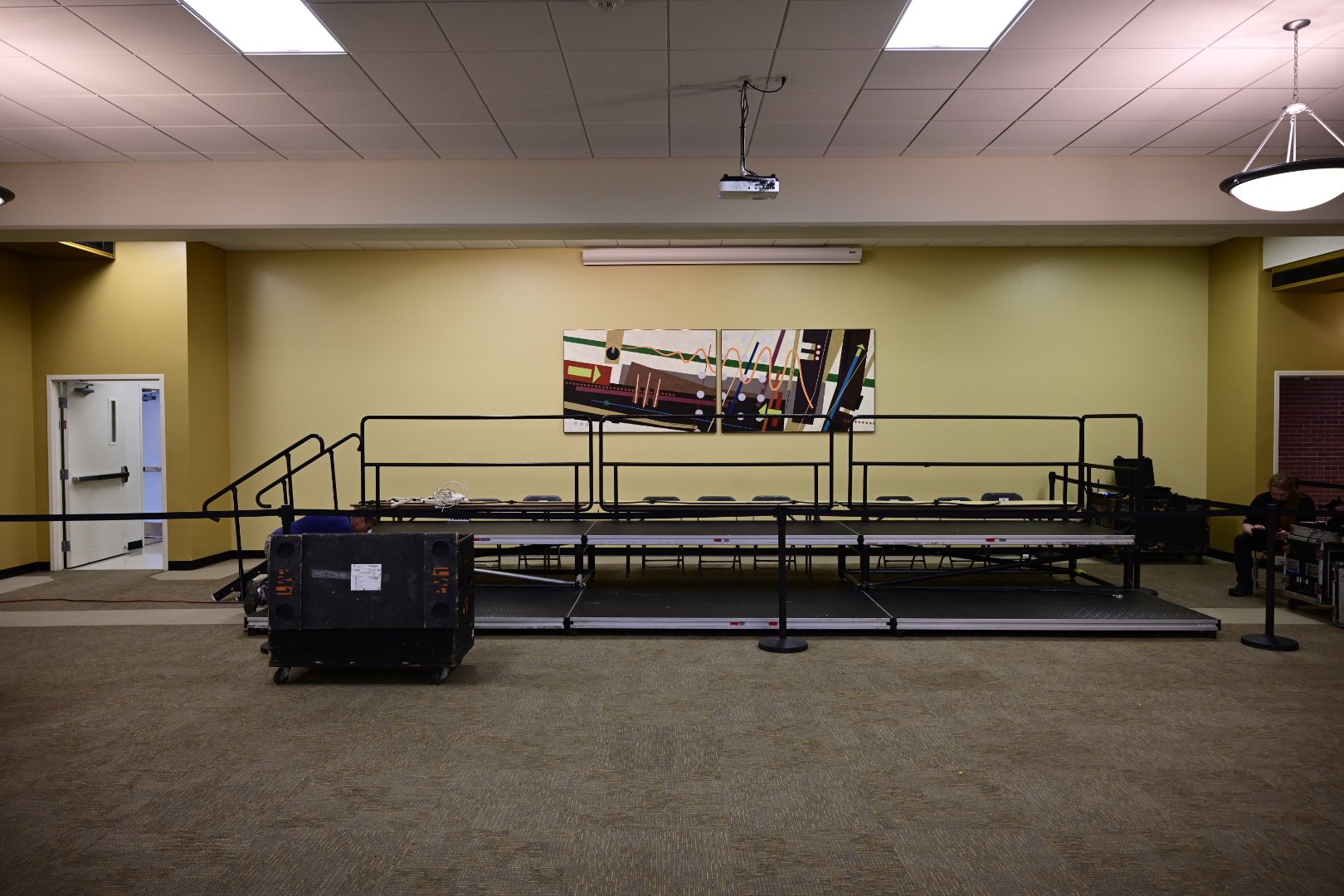 With guests arriving outside and press setting up while we finished off the room with folding chairs (also on the truck!) and put the finishing touches on the flag, we put on the "intro" music and retreated to the parking lot.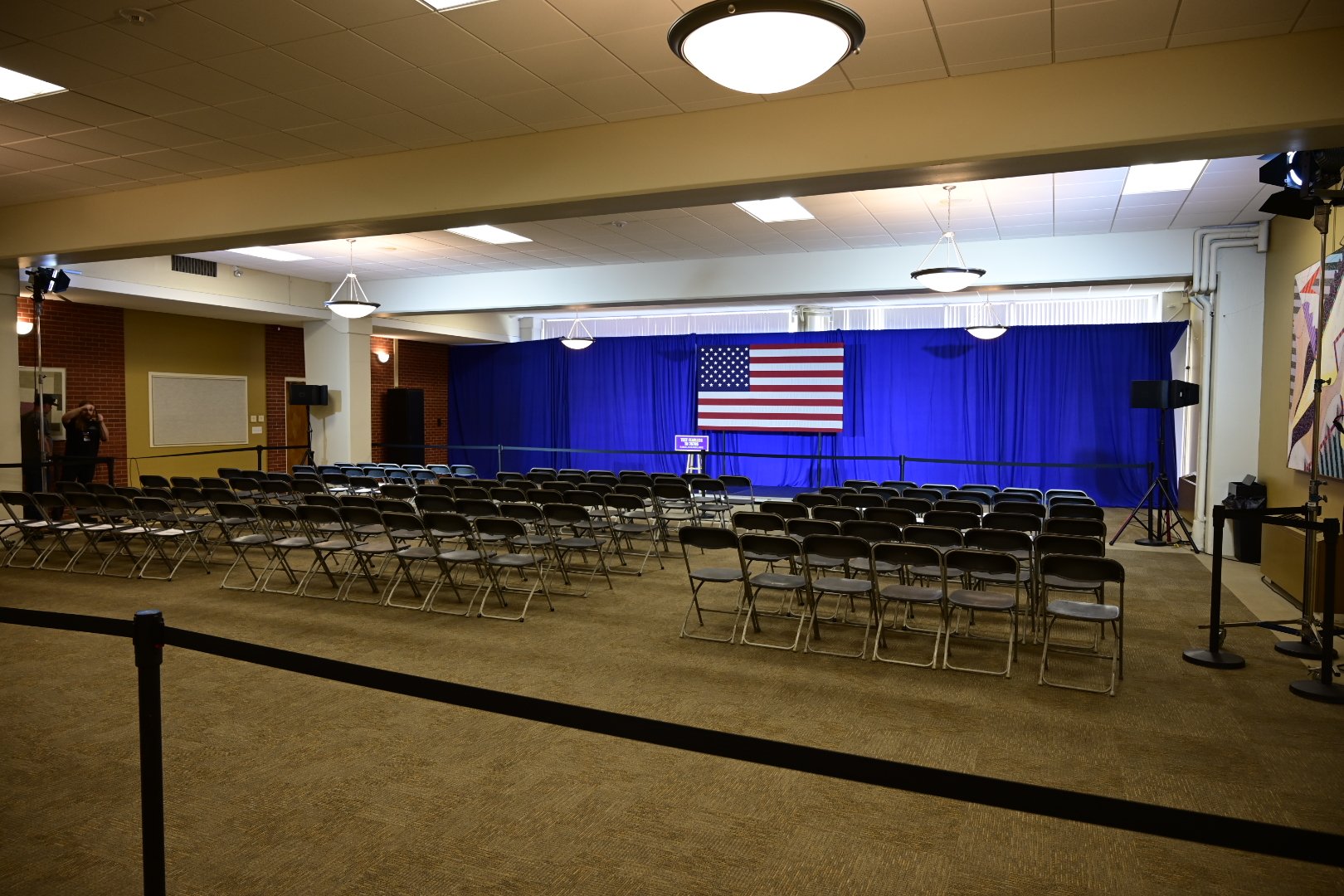 Since I'd be installing another event at 5:30 AM the next day, I was able to head back to Davenport, the site of the next much larger installation for the final stop on a multi-city bus tour. We all had a huge smile as the doors opened for the Mt. Pleasant event and the room filled; a cloudless sky showed a gorgeous sunset thru the end of show.
Although I've been in the production industry for nearly 25 years, it's the first time I've ever installed a show twice in one day at two different venues. Thanks to the local IATSE crew and the Nationwide Political Events team at PM1 for your knowledge, hard work, and dedication to the ever-changing schedules, deadlines, and venues of these events!
We welcome any and all campaign and media support inquiries for nationwide events 24/7. Hit the link below to get started.
From site plans, drawings, advance teams, gear, staff, and logistics, PM1 is in a unique position to help with national campaigns, media support, debates, tours, and more; from sea to shining sea!