By the time you're done reading this you'll know how to answer two very important questions about pool cover rentals:
How to cover a pool for a party
What does it cost to cover a pool for a party
We build temporary, engineered structures for events of all types. We saw what was being put out in the market and decided to make it better. We launched our Waltz on Water brand, and never looked back.
PM1's signature Waltz On Water service (so special we built WaltzOnWater.com) gives you options that include partial pool covers and deck surface options. Our prices are based on the total square footage of the cover, your desired surface (clear, black, or mixed) and our distance to your location.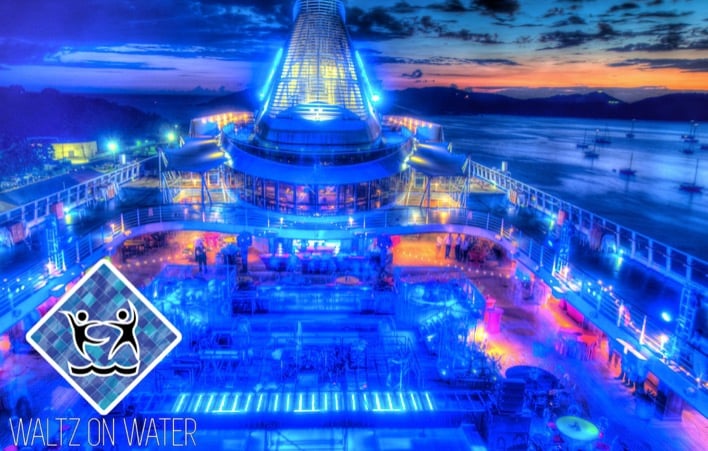 Measuing your pool for a Waltz On Water Pool Cover
The first step? Let's find out a bit more about your pool. If you're handy with a measuring tape, this part is simple. Rectangular or square pools are easy - for ovals and kidney shapes we'll get a bit more information. As all of our decks are rectangular (normal size 4' x 8') oval and kidney-shaped pools tend to be "squared off" versions of your existing layout.
Measure the width of the pool at its widest point
Measure the length of the pool at its widest point
Measure the depth of the deepest point
Measure the depth of the most shallow point
It's also a good idea to make note if the ladders, handrails, diving boards, or slides are removable, and if your pool has an "infinity edge" or is flush to the surrounding pavers. If you don't have a measuring tape handy, we regularly use Google's satellite to do estimates - just click on the "Earth" highlight to show the actual satellite imagery and then click the alt key or the option key on a mac to bring up Google's Measuring Tool. If you do this, snag a few screenshots of the measurements!
All of this is so that we can get an accurate size estimate to give you a ballpark range of what we think it will cost to design, transport, and install the pool cover. Based on our experience, we're usually within about 10% of our ballpark quote when we estimate. If you've been following us up until this point and just want to know what it costs, fill out our pool cover information sheet with your measurements and you'll have an answer usually within 24 hours.
The next step? We schedule an onsite visit from our installers who double-check the measurements and take a look at the access to the pool. We've found ways to cover pools on top of buildings, and even been able to use cranes lift our gear onto the deck of a 12-story tall cruise ship! Most homes have great access to the backyard and most commercial venues have easy access for emergency personnel. Our gear is either hand-carried from our truck out front or pushed on a drywall cart on wheels depending on the distance, elevation changes and challenges.
If you're completely lost when it comes to measuring pools, don't fret. We'll take a look at your address on Google maps, shoot you a number and we can let our installers figure out the rest!
Our Best Free Resource: The Beginner's Guide to Covering Your Pool
We put together "The Beginner's Guide to Covering Your Pool" which is an excellent resource with drawings, more photos and background. If your'e "on the edge" and not ready to jump in the pool with us yet, check it out. Sometimes smaller covers are all that's needed to create a small place for a wedding ceremony!