We've all been to or even hosted a "Special Occasion" or party that wasn't really all that, well, special.
When you think celebration what comes to mind? Cake, balloons, maybe a few decorations? Been there, done that. Why not have your next event over the pool? Whether you're getting married, having a baby, celebrating a birthday or graduation or simply having a get together, our Pool Cover Rentals can give your next event that WOW factor that your guests will talk about for years to come. Production Management One wants to help you think outside of the box and start a new tradition!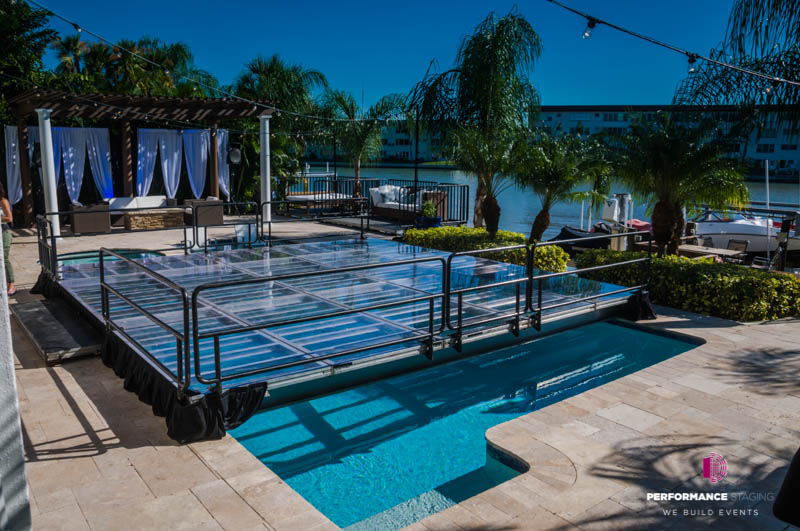 Struggling to visualize your next party over the pool? We've got some creative suggestions for you:
Birthdays
Throw your birthday bash in the backyard and use our pool cover to create additional space for seating and tables. This will free up room in the yard for decorative elements (those bounce houses take up a lot more room then you think!) and you can set up a buffet and/or dinner seating or put some couches there for an outdoor lounge feel. This is a great option for screened in pools because it extends your patio area and you wont be bothered with bugs or pests getting into the food or cake!
Pool Parties
Our pool cover rentals can be customized to completely or partially cover your pool. A partial cover would be ideal for a pool party because it allows you to gain the additional space you need for a dance floor or seating without sacrificing the use of your pool. We suggest putting a tent over it and setting up a cabana bar (handsome, half dressed servers with frozen beverages not included, sorry..) or simply pulling up those extra lawn chairs or chaise lounges to give your guests a front row view of the party. We can also submerge the pool cover to allow your guests to cool off while having an intense volleyball match or to create an area for the little ones to swim, no floaties required!
Weddings
Taking the plunge? (No pun intended..) Why not get married over the pool? We can create a aisle spanning the center of the pool so you can walk down the aisle over water. We can also completely cover the pool with our clear decks or create a checkerboard pattern with a combination of clear and solid decks and add lighting elements to create a groovy dance floor that you won't have to drag your guests onto to. Adding floating candles or flower petals will give it a more formal feel and look or you can keep it casual. Backyard weddings are becoming very popular, mostly due to the high cost of venues these days. So save money (and your marriage!) by covering your pool!
Have an idea of your own? Tell us about it! Did we mention we really love this stuff?
Still have questions? Give us a call, shoot us an email or comment below. No pressure, just questions answered!
Also if you're still looking for some inspiration check out some of our other blog posts for more ideas:
Transform Your Backyard Or Venuw With A Custom Pool Cover Dance Floor
Get Your Grove On With A Lighted Dance Floor From Performance Staging