Updated for 2017!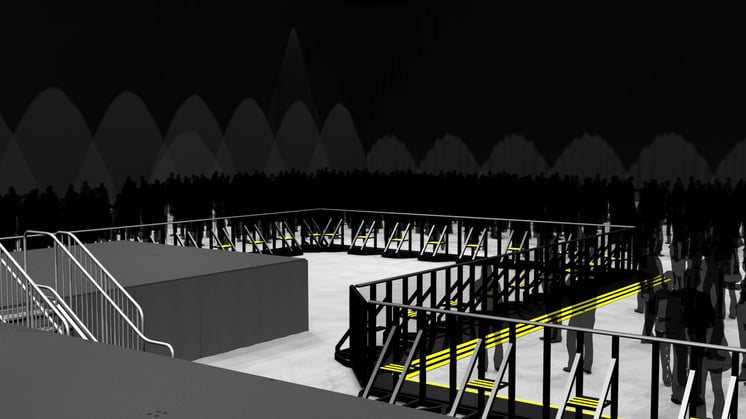 Performance Staging is the largest rental house in the U.S. for StageRight Crowd Control Barricade. We also carry Bike Rack Barricade. As industry leaders for 30 years, we've come up with some pro tips for concert barricade rentals:
Make sure your concert barricade extends past the stage. Not sure how much you'll need? Let us know the overall dimensions of your stage and we'll help you figure it out.

Utilize our corner sections to navigate around obstacles, and camera/photo pits. Corner sections are great for thrust layouts and can create inside or outside angles.

Use a center break as a corridor to your Front of House, this allows ease of access for medical and/or security personnel.
Crowd control rentals provide both facility security and spectator safety. The barricade moves easily into place, sets up and locks in without tools. The base floor is tapered (minimizing trip hazard); the top of the wall is rounded (minimizing injury hazard); and its made with a perforated steel that allows visibility and sound blow-through. Units feature a built-in step which allows personnel reach and leverage.
Utmost in safety for patrons and security
Tapered floors reduce tripping and rounded tops minimize injury
Built in step for better security management
Solid construction
Simply set in location and lift to locked position
Combine multiple units fast and easy
Stores flat for compact storage
Mesh walls provide greater visibility for security and fans
Allow lights, smoke, and sound to pass through
Optional corner pieces allow for thrust layouts to create inside and outside angles
Want to find out more about our concert barricade rental options? Check out our product page here, or our previous blog "How Not Knowing About Barricade Rentals Makes You A Rookie." We have also included a link to our complete 2017 Product Brochure below.
Need more information? Shoot us an email or give us a call today. No pressure, just questions answered.
OR