You did it, you produced the perfect concert. The venue is sold out, the crowd is buzzing with excitement, the bands starting to set up and suddenly you realize there is no crowd control barricades..
Don't make a rookie mistake, become a pro with Barricade Rentals from Performance Staging.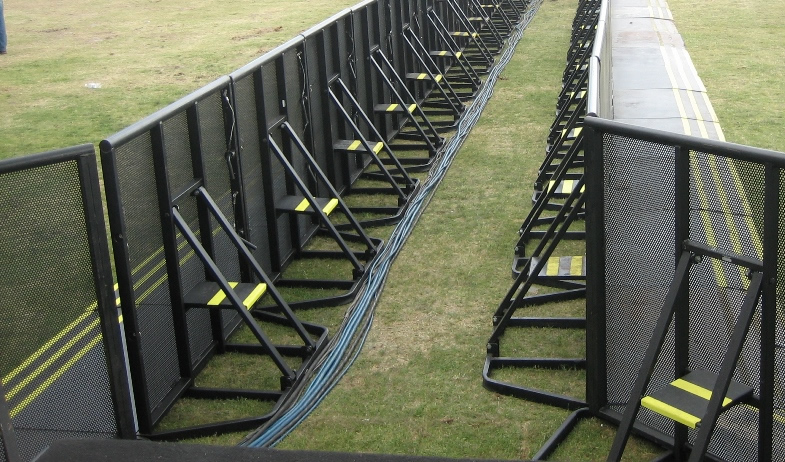 Barricade's are versatile and can be used for a variety of purposes and events including:
Concerts
Parades
Festivals
Campaign Trails
Shopping Events
Age Controlled Events
Construction Zones
Hazardous Areas
Performance Staging offers 3 types of Barricade Rentals, Mojo Barricade, StageRight Perforated Steel Barricade and Bike Rack Crowd Control Barricade.

Here are some examples of Barricade uses for concerts, parades and festivals:
Blocking off intersecting city streets with traffic barricades so an unsuspecting driver does not inadvertently drive into the area endangering attendees.

Separating public walking and driving areas.

Keeping excited concert goers from crowding the stage.
Barricades can also be used on the campaign trail where security is of utmost importance.They are generally used to control access to the candidate with checkpoints and barricades.They are also used to line the road with barricades to keep onlookers restricted to the sidewalks while the candidate's convoy passes unobstructed.
For special shopping events like Black Friday or special sales days be prepared for the shopping onslaught in your parking lot and main entrance. You can easily create a barricade fence at your indoor (and outdoor) display areas. Barricades can then be placed around displays, allowing you to put an entrance and exit where necessary.
When serving alcohol in an area or tent you can surround the area with security barricades and allow one or two entrances to control who can get in. This allows security to easily check ID's.
Barricades can be used for safety purposes to block off areas where there may be tripping or falling hazards. Temporary construction areas can also use portable temporary barricades to make the work zone more safe to passers-by and construction personnel.
Barricades can be delivered for volunteers to set up, or they can be installed by our team of expert installers according to your exact specifications and event needs.
Not sure how much barricade you need? Simply measure the length where the barricade line will be and divide by 7. The barricades are 7 feet long.
Need more information? Leave a comment, shoot us an email or give us a call today. No pressure, just questions answered.
Also, check out our latest blog "Why Our World Would End Without Stage Rentals"